A Sociological Investigation of Governance through a Mandatory Learning Management System and Practice in Danish Primary and Lower Secondary Schools
Nøgleord:
LMS, Bourdieu, Teachers Practice, Automation, Transformational Leadership, Selfregulation
Synopsis
Overall, the results of the studies in this dissertation show that political steering through the implementation of the LMS in real-world settings is challenging. First, the conflict and struggles reported in article 1 demonstrates a context characterized by mistrust between policymakers and teachers. This conflict and mistrust frame the context for the other three articles. Second, practitioners perceive the LMS and embedded governance differently. Although principals' have a teachers' habitus and thus mixed emotions regarding the conflict and mistrust by teachers, they act like an policymakers auxiliary arm and implement the LMS as expected and thus, in reality, support the embedded governance. Teachers are highly motivated to teach and report a high degree of wellbeing, despite the governance embedded in the LMS. To stay motivated in a context they believe opposes doing excellent teaching; they neither work around the LMS nor stay close to management to be part of management decisions. Third, if teachers are to use the platform, it requires an involving management that closely follows the implementation of the platform. The probability that teachers' sense-make the platform is also increased by the fact that the management is close to teachers' practice.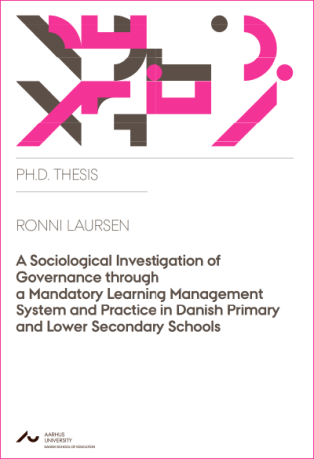 Downloads
Kategorier
Copyright (c) 2021 Ronni Laursen (Forfatter)
Detaljer om denne monografi
ISBN-13 (15)
978-87-7507-509-6