public class Graphic_Design implements Code { // Yes, but how? }: An investigation towards bespoke Creative Coding programming courses in graphic design education
Synopsis
Situated in the intersection of graphic design, computer science, and pedagogy, this dissertation investigates how programming is taught within graphic design education. The research adds to the understanding of the process, practice, and challenges associated with introducing an audience of visually inclined practitioners—who are often guided by instinct—to the formal and unforgiving world of syntax, algorithms, and logic. Motivating the research is a personal desire to contribute towards the development of bespoke contextualized syllabi specifically designed to accommodate how graphic designers learn, understand, and use programming as an integral skill in their vocational practice.
The initial literature review identifies a gap needing to be filled to increase both practical and theoretical knowledge within the interdisciplinary field of computational graphic design. This gap concerns a lack of solid, empirically based epistemological frameworks for teaching programming to non-programmers in a visual context, partly caused by a dichotomy in traditional pedagogical practices associated with teaching programming and graphic design, respectively. Based on this gap, the overarching research question posed in this dissertation is: "How should programming ideally be taught to graphic designers to account for how they learn and how they intend to integrate programming into their vocational practice?"
A mixed methods approach using both quantitative and qualitative analyses is taken to answer the research questions. The three papers comprising the dissertation are all built on individual hypotheses that are subsequently used to define three specific research questions.
Paper 1 performs a quantitative mapping of contemporary, introductory programming courses taught in design schools to establish a broader understanding of their structure and content. The paper concludes that most courses are planned to favor programming concepts rather than graphic design concepts. The paper's finding can serve as a point of departure for a critical discussion among researchers and educators regarding the integration of programming in graphic design education.
Paper 2 quantitatively assesses how the learning style profile of graphic design students compares with that of students in technical disciplines. The paper identifies a number of significant differences that call for a variety of pedagogic and didactic strategies to be employed by educators to effectively teach programming to graphic designers. Based on the results, specific recommendations are given.
Paper 3 proposes a hands-on, experiential pedagogic method specifically designed to introduce graphic design students to programming. The method relies on pre-existing commercial graphic design specimens to contextualize programming into a domain familiar to graphic designers. The method was tested on the target audience and observations on its use are reported. Qualitative evaluation of student feedback suggests the method is effective and well-received. Additionally, twenty-four heuristics that elaborate and extend the paper's findings by interweaving other relevant and influential sources encountered during the research project are provided.
Together, the literature review, the three papers, and the heuristics provide comprehensive and valuable theoretical and practical insights to both researchers and educators, regarding key aspects related to introducing programming as a creative practice in graphic design education.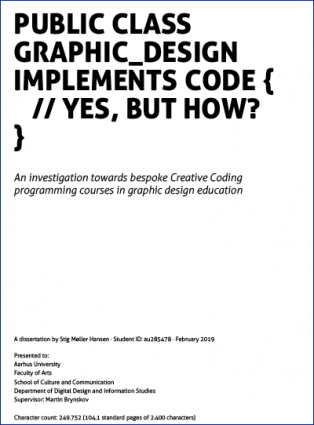 Publiceret
september 16, 2019
Detaljer om denne monografi
ISBN-13 (15)
978-87-7507-457-0