Sønderskov udgravningsrapport (excavation report): FHM5662 Sønderskov, Rugaard, Djursland, Rosmus sogn, Djurs Sønder herred, tidl. Randers amt. Sted nr. 14.02.11. Sb. nr. 112
Keywords:
Celtic fields, Iron Age, Bronze Age, Tenure
Synopsis
Som en del af forskningsprojektet Time and Causality: a non-linear approach to prehistoric landscape change, financieret af Danmarks Frie Forskningsfond, gennemførtes i oktober 2015 en mindre undersøgelse af en skelvold og en terrassekant i det store fossile system af oldtidsagre i Sønderskov på det østlige Djursland. Hovedformålet var at opnå ny viden om tidspunktet for anlæggelsen af afgrænsningerne i marksystemet, og om over hvor lang tid afgrænsningerne var akkumuleret. Der blev udtaget prøver til 14C- og OSL-datering; selvom resultaterne af disse er forbundet med betydelige biases tyder de på, at skelvoldene kan have påbegyndt at akkumulere allerede i yngre bronzealder, og der antydes yderligere aktivitetsfaser i både Tragtbægerkultur og vikingtid.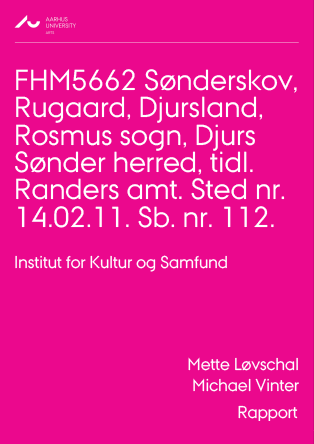 Published
February 25, 2019
Details about this monograph
ISBN-13 (15)
978-87-7507-446-4