PROJECT HALF DOUBLE: Training practitioners, working with visuals, practice reflections and small and medium-sized enterprises
Nøgleord:
project management
Synopsis
Since the beginning of Project Half Double in 2015, the overall goal has been to deliver "Projects in half the time with double the impact" where projects in half the time should be understood as half the time to impact and not as half the time for project execution.
The research team at Aarhus University has published three Project Half Double reports on the Half Double Methodology and the results from applying the methodology on "real life" pilot projects in order to evaluate how the overall goal mentioned above has been achieved.
The aim of this report is to document some of the learnings obtained throughout the years. Four themes were selected for this report: 1) practitioner training, 2) working with visuals, 3) practice reflections, and finally 4) small and medium-sized enterprises.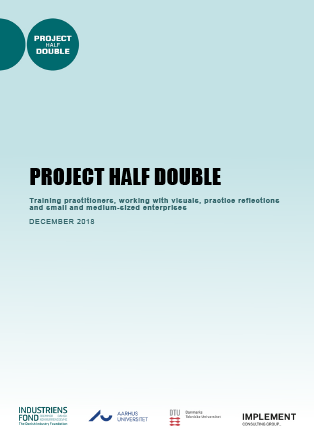 Downloads
Kategorier
Detaljer om denne monografi
ISBN-13 (15)
978-87-7507-445-7