Project Half Double Current Results of Phase 1 and Phase 2, December 2017
Synopsis
The Half Double mission: Project Half Double has a clear mission. We want to succeed in finding a project methodology that can increase the success rate of our projects while increasing the development speed of new products and services. We are convinced that by doing so we can strengthen Denmark's competitiveness and play an important role in the battle for jobs and future welfare. 

The overall goal is to deliver "Projects in half the time with double the impact" where projects in half the time should be understood as half the time to impact (benefit realization, effect is achieved) and not as half the time for project execution.

The Half Double project journey: It all began in May 2013 when we asked ourselves: How do we create a new and radical project paradigm that can create successful projects? Today the movement includes hundreds of passionate project people, and it grows larger by the day. 

The formal part of Project Half Double was initiated in June 2015. It is a two-phase project: phase 1 took place from June 2015 to June 2016 with seven pilot projects, and phase 2 is in progress from July 2016 to July 2018 with 10 pilot projects.

The Half Double consortium: Implement Consulting Group is the project leader establishing and managing the collaboration with the pilot project companies in terms of methodology. Aarhus University and the Technical University of Denmark will evaluate the impact of the pilot projects and legitimize the methodology in academia.

The Danish Industry Foundation, an independent philanthropic foundation, is contributing to the project financially with DKK 13.8 million.

About this report: This report focuses on phase 2 pilot projects documenting their development and further consolidates results from the phase 1 pilot projects. This is the third report about Project Half Double (Svejvig et al. 2016, Svejvig et al. 2017). This report's target group inludes practitioners in Danish industry and society in general. 

The editorial team from Aarhus University prepared the report from October 2017 to December 2017, which means that data about pilot projects from December 2017 is not included.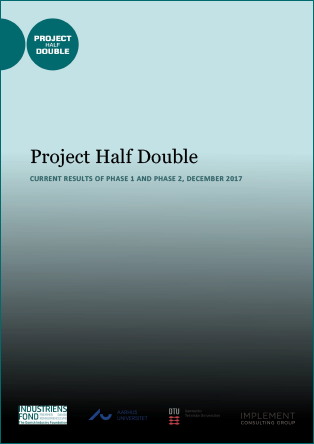 Downloads
Kategorier
Detaljer om denne monografi
ISBN-13 (15)
978-87-7507-429-7