Cancer genetic counseling in China and Denmark; a comparative anthropological perspective
Nøgleord:
anthropology, comparative studies, genetic counseling, China, Denmark, Organization, BRCA, genetic testing
Synopsis
This dissertation compares cancer genetic counseling in China and Denmark using an anthropological perspective.
It uses anthropological theory to argue how ideas of genetic responsibility and demands for responsibility investments may be understood as the products of everyday practices unfolding within local worlds. Finding very different forms of cancer genetic counseling in China and Denmark, it analytically argues that the local organization of health care provides a salient example of a local world. It uses an STS framework to analyze how differences in the organization of health care in China and Denmark, may be seen as promoting very different webs of everyday human and non-human actors, resulting in very different cancer genetic counseling practices, respectively. For professionels, patients and their families in China and Denmark, these differences lead to very different demands for patient- family collaboration and interdependence, and ultimately to very different local forms of genetic responsibility.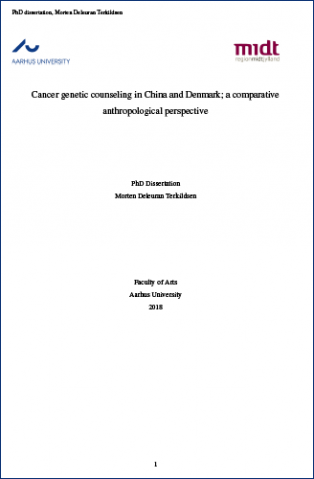 Downloads
Kategorier
Detaljer om denne monografi
ISBN-13 (15)
978-87-7507-430-3