Hvorfor er der så få kvindelige datalogistuderende?
Synopsis
This Master's thesis investigates the reasons why there are so few female students in Computer Science. More specifically, the thesis investigates what attracts both men and women to computer science, on what criterions they base their choice of education, and which pros and cons women experience as a result of their gender during their studies and later in their worklife. Furthermore, the study looks into the assumptions of current students and graduates concerning why so few women are attracted to Computer Science.
The reason for investigating this subject is that there is a rising need in Denmark for people with higher education in IT – especially within the traditional, theoretical, mathematical founded fields of education such as Computer Science. Surprisingly few women apply for these fields compared to traditional other scientific ones. The investigation employs qualitatively designed online questionnaires. They are evaluated through Healy and Perry's assessment criterions. The evaluation is extended by Guba and Lincoln's transferability criterion. A total of 139 students, graduates and former participants in it-camp for piger (IT Camp For Girls) responded to the questionnaires. The analysis of their answers shows that on the whole, women are attracted to Computer Science because of its mathematical foundations. It also shows that both men and women presume that the low number of female applicants to Computer Science is caused by various factors including the following ones: the education is dominated by men, prejudices concerning women's technical abilities are prevalent, and the education suffers from a poor image, since computer scientists are pictured as stereotypical geeks spending their life alone at their desk.
It might be worthwhile to expand the investigation to include, for instance, respondents from other countries or with another education.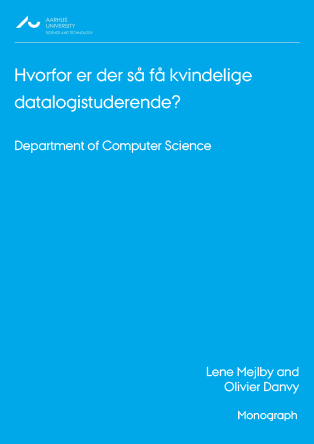 Downloads
Kategorier
Detaljer om denne monografi
ISBN-13 (15)
978-87-7507-397-9