Meta-syntese af kvalitative studier: En introduktion til studier af studier af intervention
Nøgleord:
Meta-synthesis qualitative systematic review
Synopsis
This article is written for students and PhD students in psychology. The article is in Danish. The purpose of this article is to introduce a special kind of review of existing literature known as meta-synthesis. In a meta-synthesis, qualitative studies are integrated or compared and, as a result, the essence of meta-synthesis is as a result an analytic generalization of findings in qualitative studies. Stages in meta-synthesis are outlined, especially emphasizing the interchange between research topic and aim, the systematic literature search and analysis of identified studies. An example of a meta-synthesis is used to illustrate the stages. Finally, the article includes a comparison of the knowledge derived from meta-analysis of quantitative studies and meta-synthesis of qualitative studies. The conclusion is that meta-synthesis is well suited for generating theory and may improve decision-making about intervention.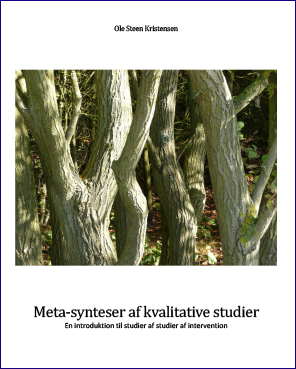 Downloads
Kategorier
Detaljer om denne monografi
ISBN-13 (15)
978-87-7507-421-1
Date of first publication (11)
2018-08-10
Den muslimske kalender - Hijri kalender