The Politics of Asceticism: An Analysis of the Political Spirituality of the Imperial Stoics
Nøgleord:
Stoicism, Ancient Philosophy, Political Philosophy, Political Spirituality, Asceticism, Heterotopia, The Cosmic City, Philosophy as a Way of Life, Foucault
Synopsis
In recent decades a renewed focus on the Hellenistic and Roman philosophies has rehabilitated the practical aspect of ancient philosophy. This aspect of philosophy has continued to be part of the philosophical discipline but it has often been surpassed in importance and appreciation by philosophy's theoretical discourse. With the increased focus on ancient philosophy's practical outlook, an interesting question emerges: what does this practical outlook entail regarding how we interpret and analyse the political philosophy and political praxis of the ancient philosophers? In order to examine this question, this dissertation sheds light on Imperial Stoicism and examines this group of philosophers' political philosophy in view of the concept of 'political spirituality.' The often-reiterated interpretation of Imperial Stoicism is that these philosophers were either entirely apolitical or that they, unlike their Hellenistic predecessors, were markedly conservative, reactionary, and generally supported the status quo of society despite an apparent subversive veneer. Both these interpretations are significantly questioned in this dissertation.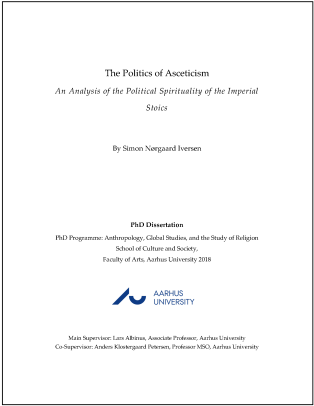 Downloads
Kategorier
Copyright (c) 2023 Simon Nørgaard Iversen
Detaljer om denne monografi
ISBN-13 (15)
978-87-7507-541-6