Electrification of Scandinavian Ports : An Interreg project - final report
Keywords:
Interreg, emissions, greenhousegas, electrification, symbiosis, ports
Synopsis
The SETS II project facilitates a faster conversion to sustainable electrical operations in the ports of the Kattegat-Skagerrak Region. It aims at ensuring a green and flexible energy supply in port areas and a reduction in CO2 and particle emissions. The regional ports will be models, which can further contribute to the promotion of a full-scale sustainable transport system in the cross-border region.
 SETS II promotes cross-border and cross-sector cooperation in the region regarding new methods, approaches, and solutions related to port electrification. Cooperation has been conducted across university environments, public actors, business promotion organizations, local authorities, utilities, advisors and private companies.
 The project supports ports in preparing electrification plans with an accompanying strategy for implementation. It focuses on electrification and potential battery operation in maritime areas as well as technical service, business models, and financing models.
References
SETSII. Skandinavisk Elektrisk Transport System. 2022 01/2018]; Available from: https://www.sets-kask.eu/.
ÖKS, i. Interreg - skandinavisk elektrisk transport system 2022 07/2022]; Available from: https://arkiv.interreg-oks.eu/projektbank/projekt/skandinaviskelektrisktransportsystemii.5.19de82b216b0032caaedbc38.html.
457, L.n. Havneloven. LBK nr 457 af 23/05/2012 2012; Available from: https://www.retsinformation.dk/eli/lta/2012/457.
NO. LOV-2019-06-21-70. 2019; Available from: https://lovdata.no/dokument/NL/lov/2019-06-21-70#:~:text=%C2%A7%201.-,Form%C3%A5l,ivareta%20nasjonale%20forsvars%2D%20og%20beredskapsinteresser.
EFTA. European Free Trade Association (EFTA). 2022 07/2022]; Available from: https://www.efta.int/.
EEA. European Economic Area (EEA). 2022; Available from: https://european-union.europa.eu/principles-countries-history/principles-and-values/founding-agreements_en.
HH. HAVS- OCH VATTEN­MYNDIGHETEN. 2022 07/2022]; Available from: https://www.havochvatten.se/.
DGNB. DGNB certification: a systematic approach to sustainability. 2022 [cited 2022 08.08]; Available from: https://www.dgnb.de/en/council/certification/index.php.
GHG. GreenhouseGas Protocol. 2022; Available from: https://ghgprotocol.org/.
Enevoldsen, P., A socio-technical framework for examining the consequences of deforestation: A case study of wind project development in Northern Europe. Energy Policy, 2018. 115: p. 138-147.
Roungkvist, J.S. and P. Enevoldsen, Timescale classification in wind forecasting: A review of the state-of-the-art. Journal of Forecasting, 2020. 39(5): p. 757-768.
Schütz Roungkvist, J., P. Enevoldsen, and G. Xydis, High-Resolution Electricity Spot Price Forecast for the Danish Power Market. Sustainability, 2020. 12(10): p. 4267.
Čurović, L., et al., Impact of COVID-19 on environmental noise emitted from the port. Science of The Total Environment, 2021. 756: p. 144147.
Erbe, C., et al., The effects of ship noise on marine mammals—a review. Frontiers in Marine Science, 2019: p. 606.
Fredianelli, L., et al., Pass-by Characterization of Noise Emitted by Different Categories of Seagoing Ships in Ports. Sustainability, 2020. 12(5): p. 1740.
Karapetrovic, S. and W. Willborn, Integration of quality and environmental management systems. The TQM Magazine, 1998. 10(3): p. 204-213.
Martin, M. and S. Harris, Prospecting the sustainability implications of an emerging industrial symbiosis network. Resources, Conservation and Recycling, 2018. 138: p. 246-256.
Martin, M., Environmental assessment of the Sotenäs Industrial Symbiosis Network. 2018, IVL Swedish Environmental Research Institute.
Ravn, V., The Port Environmental Performance Index, in Faculty of Technology, Natural Sciences and Maritime Sciences. 2021, University of South-Eastern Norway.
Meadows, D., Indicators and information systems for sustainable development. 1998.
Gamiao, J., Port-City Symbiotic Collaboration in Norway, in Faculty of Technology, Natural Sciences, and Maritime Sciences, Department of Maritime Operations. 2022, University of South-Eastern Norway.
Verhoeven, P. #ClosetheGaps: setting a global agenda for ports. 2022. Vancouver, BC.
Hoyle, B., Global and Local Change on the Port-City Waterfront. Geographical Review, 2000. 90(3): p. 395-417.
Hoyle, B.S., The port—City interface: Trends, problems and examples. Geoforum, 1989. 20(4): p. 429-435.
DST. Statistics Denmark. 2022 07/2022]; Available from: https://www.dst.dk/en/.
SSB. Statistisk sentralbyrå - statistics Norway. 2022 [cited 07/2022; Available from: https://www.ssb.no/.
SCB. Statistikmyndigheten. 2022 07/2022]; Available from: https://www.scb.se/.
Lerche, J., et al., The impact of COVID -19 on offshore wind project productivity – A case study. Renewable and Sustainable Energy Reviews, 2022. 158: p. 112188.
Lerche, J., P. Enevoldsen, and O. Seppänen, Application of Takt and Kanban to Modular Wind Turbine Construction. Journal of Construction Engineering and Management, 2022. 148(2): p. 05021015.
Notteboom, T., et al., The role of seaports in green supply chain management: Initiatives, attitudes, and perspectives in Rotterdam, Antwerp, North Sea Port, and Zeebrugge. Sustainability, 2020. 12(4): p. 1688.
Lam, J.S.L. and T. Notteboom, The Greening of Ports: A Comparison of Port Management Tools Used by Leading Ports in Asia and Europe. Transport Reviews, 2014. 34(2): p. 169-189.
Okada, T., et al., Green port structures and their ecosystem services in highly urbanized Japanese bays. Coastal Engineering Journal, 2021. 63(3): p. 310-322.
Sifakis, N., S. Konidakis, and T. Tsoutsos, Hybrid renewable energy system optimum design and smart dispatch for nearly Zero Energy Ports. Journal of Cleaner Production, 2021. 310: p. 127397.
Anwar, S., et al., Towards Ferry Electrification in the Maritime Sector. Energies, 2020. 13(24): p. 6506.
ESPO. European Sea Ports Organisation. 2022 [cited 2022 05.05]; Available from: https://www.espo.be/.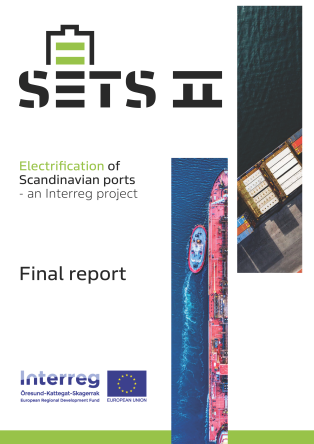 Downloads
Copyright (c) 2022 Jon Lerche, Bahram Dehghan, Ishita Sharma, Peter Enevoldsen, Michael Ax, Bjørnar Thorsen, Ramina Siamandu, Emily Tynes, Tharsika Pakeerathan Srirajan
Details about this monograph
ISBN-13 (15)
978-87-7507-526-3